Avocado Buffalo Chicken Wraps are a spicy buffalo chicken salad packed with lots of vegetables and made with avocado and Greek yogurt instead of mayo.  Enjoyed warm or chilled, this wrap is healthy, quick and easy ~ perfect for a weeknight!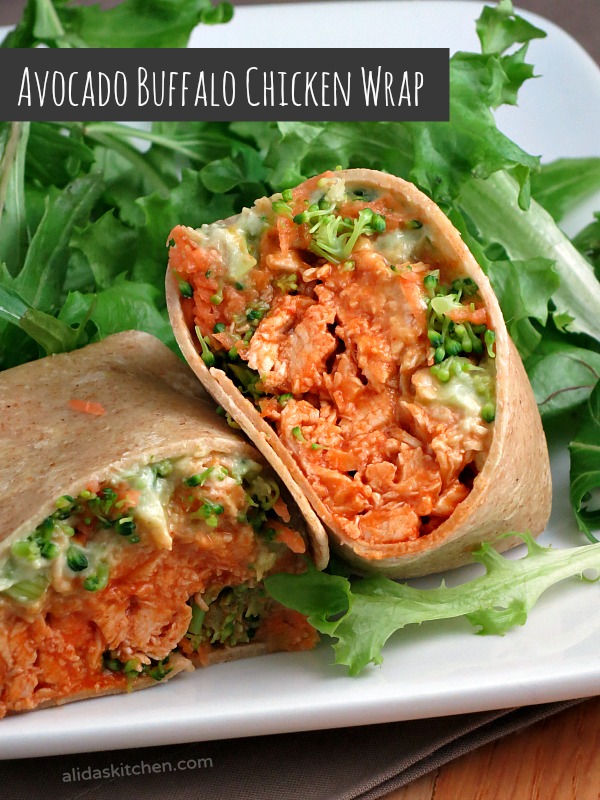 Avocado Buffalo Chicken Wraps put a fun and unique twist on your everyday chicken salad.  Shredded chicken, drenched in a light, seasoned buffalo sauce, spices things up, while an avocado and Greek yogurt mixture replaces the mayo.  For the vegetables, I used shredded carrots and chopped broccoli (I'm not a fan of celery, but if you are, some chopped celery would be a tasty addition as well).   A little blue cheese crumble would be an excellent topping as well.  
For this recipe, I used poached chicken.  You can easily use shredded rotisserie  chicken and skip to step 2.  While I made the Avocado Buffalo Chicken Salad into a wrap, it is excellent as a sandwich, stuffed in a pita, or whatever your favorite preparation.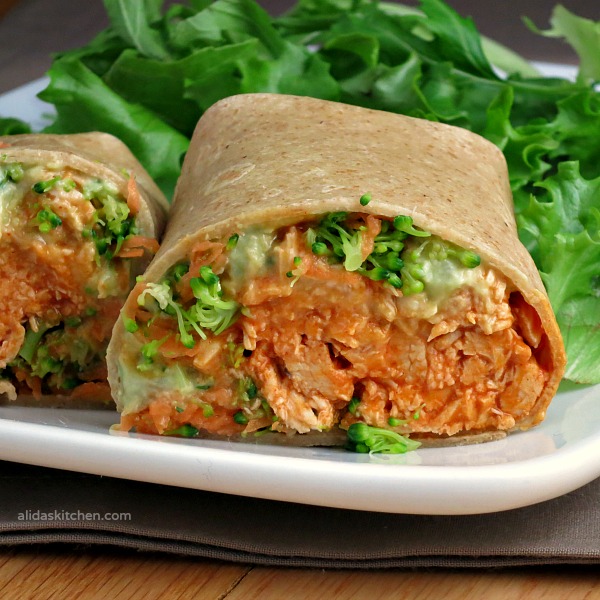 Avocado Buffalo Chicken Wraps
Ingredients
1 pound boneless, skinless chicken breast
1/2 cup hot sauce (I use Frank's)
2 tablespoons fresh lemon juice, divided
1 teaspoon paprika
1 teaspoon garlic powder
1/2 teaspoon onion powder
1/2 cup shredded carrots
1 cup chopped cooked broccoli florets
1 avocado
1/4 cup nonfat Greek yogurt
4 tortillas
Instructions
Place chicken in a large sauce pan and cover with water. Bring to a boil; then cover and simmer until no longer pink in the middle (about 10 to 15 minutes). Transfer to a bowl
Meanwhile, combine hot sauce, 1 tablespoon lemon juice, paprika, garlic powder, and onion powder. Pour over warm chicken and then shred using two forks.
Combine carrots and broccoli.
In a small bowl, mash avocado and then combine with yogurt and 1 tablespoon lemon juice.
Top each tortilla with 1/4 avocado mixture, 1/4 carrot broccoli mixture and 1/4 buffalo chicken. Roll up, slice in half and serve!
Notes
I like to layer my wraps, but if desired, you can combine the buffalo chicken, avocado mixture and carrots/broccoli into a 'chicken salad' and then fill tortillas, pitas, bread or whatever you're using.
http://alidaskitchen.com/2014/04/02/avocado-buffalo-chicken-wraps/
Avocado Buffalo Chicken Wraps are a healthy meal that can be made in less than 20 minutes, making them perfect to share for Weekday Supper today!   The idea behind Weekday Supper is that Sunday Supper starts as just one day a week…and soon becomes a way of life.  Each week day, one blogger from the group shares a recipe for quick and easy meals easily found in a grocery store.   Be sure to check out all of the amazing Weekday Supper inspiration  this week and enjoy!
Monday – Egg and Chorizo Wraps by Family Foodie
Tuesday - Steak au Poivre Redux by Crazy Foodie Stunts
Wednesday - Avocado Buffalo Chicken Wrap by Alida's Kitchen
Thursday - Easy Chicken Enchiladas by Cupcakes & Kale Chips
Friday - Fish Tacos with Chipotle Ranch Sauce by Daily Dish Recipes