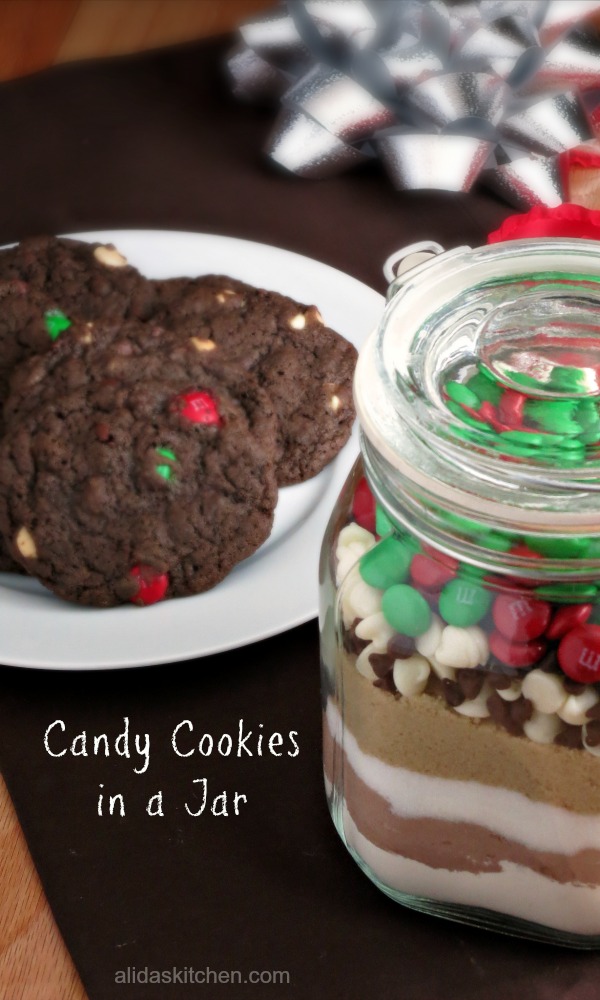 Candy Cookies in a Jar is a recipe for cookie mix that is filled with lots of goodies and decoratively arranged in a jar.  These are fun and easy to make, plus they make great gifts for the Holidays.  This particular recipe is for Chocolate M&M Cookies, but any cookie recipe could be used following the same layering concept.
With the Holidays quickly approaching, some blogger friends and I thought it would be fun to share some cooking-related handmade gifts.   If you find yourself buying more and more gift cards each year, then these gift ideas are for you!  We have covered the bases to create a wide variety of gifts that are unique, easy and fun to make for your friends, neighbors, the person who has everything and that person who you just have no idea what to buy for them!  Plus there is an awesome giveaway too!
Adam and I spent a fun afternoon pouring flour and sugar, as well as spooning goodies, into a jar to make gifts for his cooking class teachers.  Talk about the perfect gift!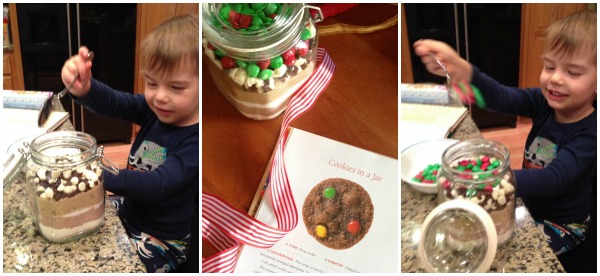 Then we sealed up the jar, added a bow and included an instruction card for how to make the 'Candy Cookies' from the jar.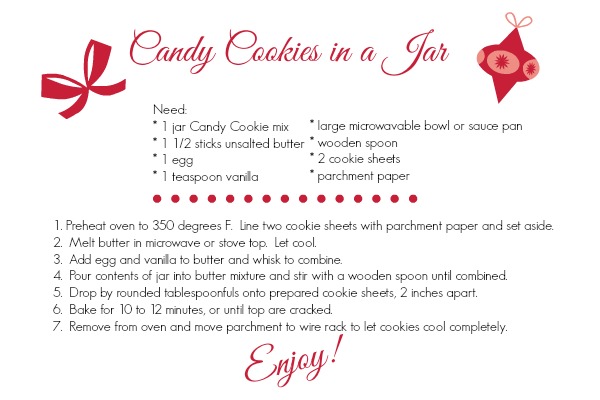 For the recipient, making the cookies is quite simple.  Just add butter, an egg and vanilla, mix it all together, drop dough onto prepared cookie sheet and bake!  You could even make and gift some homemade vanilla while you're at it.
I used these 1-quart wire bale air-seal glass jars from Freund Container.  They have a nice wide opening that is perfect for filling with the ingredients for Candy Cookies in a Jar.  The metal snap closure made them very easy to seal (plus, they look nice !)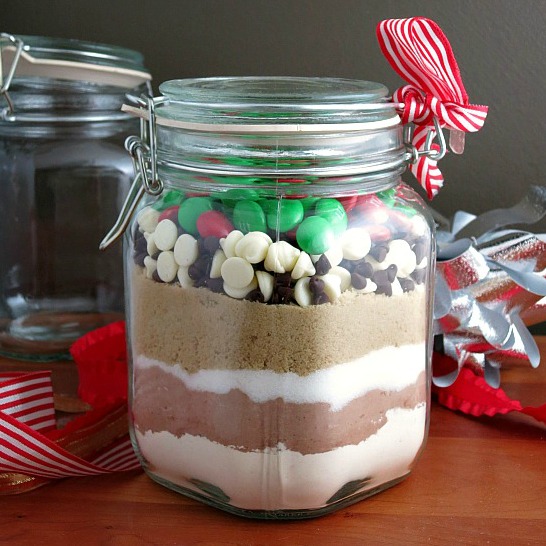 A trick we discovered for filling the jars was to put each powdery layer (so flour, cocoa, sugars) on a piece of waxed paper (or parchment would work too) to neatly funnel each layer into the jar.  Then with a rubber spatula and a small glass (or baby food jar), pack down and smooth each layer before adding the next ingredient.  The result is a lovely jar filled with a tasty cookie mix for 'Candy Cookies.'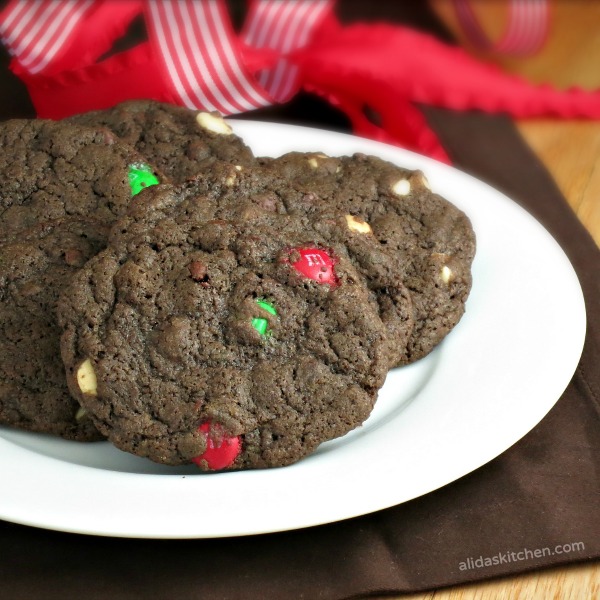 .  
Candy Cookies in a Jar
Serves:
1 jar (30 cookies)
Ingredients
Cookie Mix
1¾ cups all-purpose flour, divided
1 teaspoon baking soda
¼ teaspoon salt
¼ cup cocoa powder
¾ cup packed brown sugar
½ cup granulated sugar
½ cup semisweet chocolate chips
½ cup white chocolate chips
½ cup candy-coated candies (such as M&Ms)
Other items
1 quart wire bale air seal glass jar, washed and dried completely
ribbon, or other decoration
note cards with instructions
Instructions
In a small bowl, whisk 1 cup flour, baking soda and salt. Pour onto waxed paper and funnel into jar and firmly pack it down into an even layer, using a silicone spatula, the bottom of a glass, back of a spoon, whatever works.
Pour brown sugar into jar and firmly pack it down into an even layer.
Pour granulated sugar onto waxed paper and funnel into an even layer in jar.
In another small bowl, whisk remaining ¾ cup flour and cocoa powder. Pour onto waxed paper and funnel evenly into jar.
Add layer of chocolate chips, white chocolate chips and M&Ms.
Seal jar and decorate as desired. Include the directions listed in the Notes below.
Notes
Directions for making cookies: Preheat oven to 350 degrees F and line two cookie sheets with parchment paper. Melt 1½ sticks butter in a sauce pan or microwavable bowl. Let cool. Add one egg and 1 teaspoon vanilla and whisk to combine. Pour contents of jar into butter mixture and stir with a wooden spoon until combined. Drop by rounded tablespoonfuls onto prepared cookie sheets, 2 inches apart. With the bottom of a glass, flatten the cookies slightly (you may want to shape them). Bake for 10 to 12 minutes, or until tops are cracked. Remove from oven and move parchment to wire rack to let cookies cool completely.
giveaway
Now for the exciting giveaway news.  The generous folks at Freund Container have given us three $100 gift certificate to giveaway to three lucky readers!  So after you get inspired by all of the wonderful projects that everybody made below, enter the giveaway for your chance to win!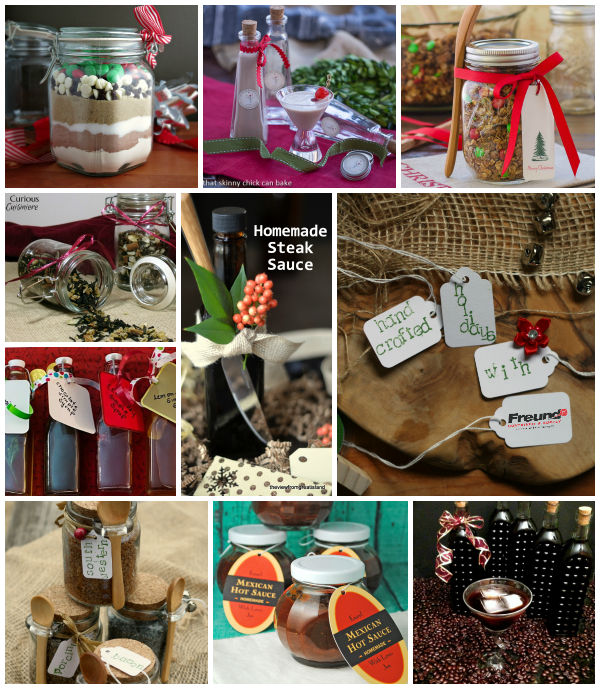 Handcrafted Holiday ideas for making gifts from your kitchen using products from Freund Container:
To enter: (mandatory) Answer this question in the comments on this post – Which Freund product would you choose, and what type of handcrafted holiday project would you make? Be sure to record your answer in the rafflecopter widget after you've left your comment. (optional) Once you've completed the mandatory entry, there a bunch more ways to earn more entries via rafflecopter.
a Rafflecopter giveaway

This giveaway is for three $100 gift certificate to Freund Container & Supply. Gift certificate will expire on February 28, 2014. Gift certificate is a one-time use certificate and must be used in its entirety; any leftover monies on the gift certificate will be forfeited. This giveaway is open to both US and Canadian residents. However, it should be noted that due to current International shipping rates, any Canadian winners will pay higher shipping costs for orders. This giveaway will run from Friday November 22, 2013 through Saturday November 30, 2013 (11:59 pm ET).  Winner will be notified within 48 hours of the close of this contest, and given 48 hours to respond before a new winner is chosen.
Freund Container & Supply has been helping build businesses since 1938 as the largest distributor of glass bottles, containers and wholesale packaging supplies online. Freund offers over 5,000 items in stock every day, 98% same day shipping and low-price guarantees. Take a look at Freund's wide selection of jars, tins, bottles and vials for all your crafting and food related needs!
I was not compensated for this post, however Freund Container supplied me with a case of jars/bottles for making this project.  They are also supplying the gift certificates for the giveaway.  All opinions are my own.