Marble Cake with Fudge Frosting is the perfect party cake!  Enjoy a swirl of yellow cake and chocolate cake in every bite, topped with a fudgy chocolate frosting.  Delicious, a crowd favorite, and easy to make!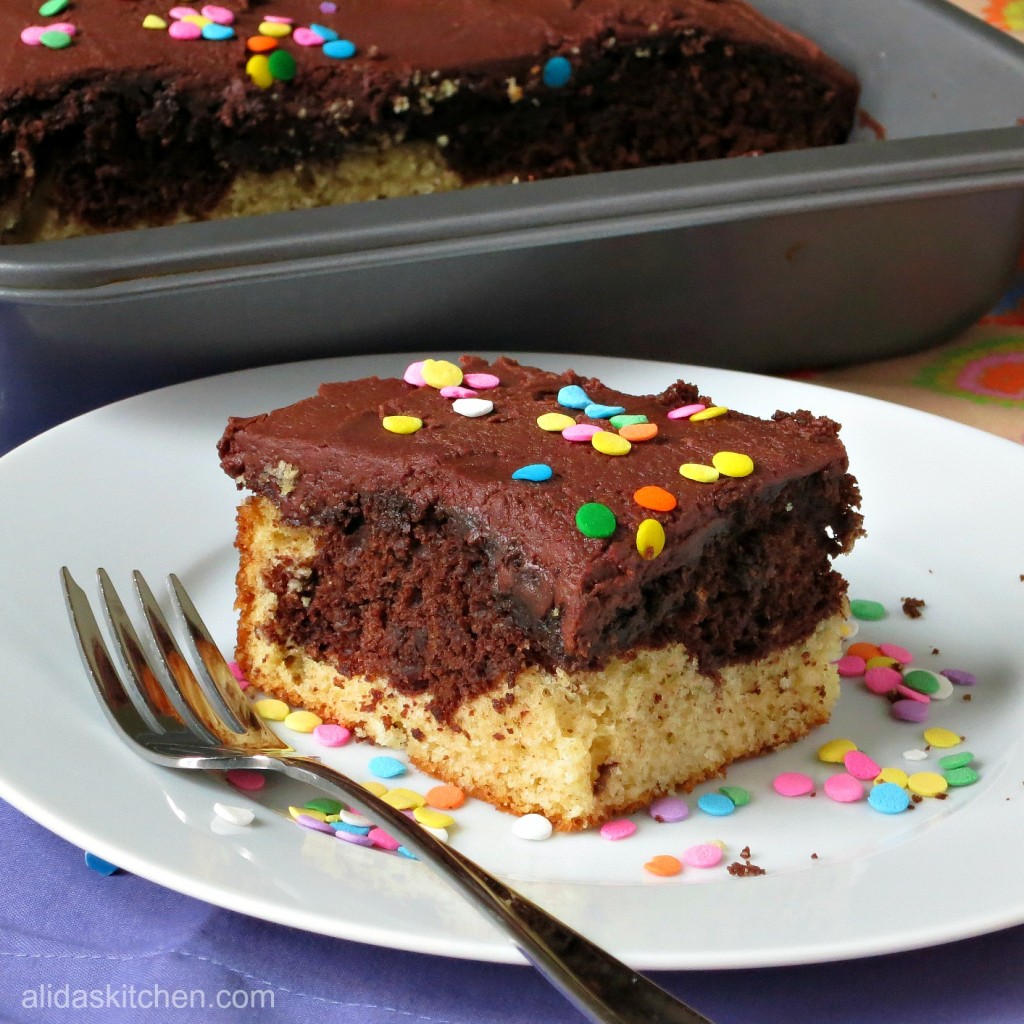 Recently, we celebrated Mike's birthday, and as always I asked him to pick his birthday treat.  He usually just tells me to make whatever, but this year he got some advice from our resident 3 year old (who may be a bit opinionated these days).  After consulting a couple of his favorite cookbooks (really!) and a few of my printed recipes, Adam's decision was made ~ Marble Cake with Fudge Frosting.  While Adam had never had marble cake before, and at the time was not a fan of chocolate, he was sure this was the perfect cake for his daddy.  He was absolutely right!
With yellow cake and chocolate cake in a pretty little swirl, we enjoyed the best of both worlds and the fudge frosting was the perfect icing on the cake (ha!)   And while it looks fancy, this cake is super simple to make.  The frosting was a bit stiff during the stirring process and goes on thick, yet is a thin layer on top of the tasty cake.  Decorate it as you wish, and here is the perfect party cake to celebrate any special occasion.
Speaking of special occasion, I thought this cake would be the perfect celebratory treat to launch the redesign of Alida's Kitchen!  I hope you enjoy the new site as much as I do.  I will be writing up a separate post to talk about the exciting new features, but wanted to give a shout out to my designer, Shay Bocks.  From her creativity and knack at making things pretty to her dedication and hard work, Shay is an absolute superstar!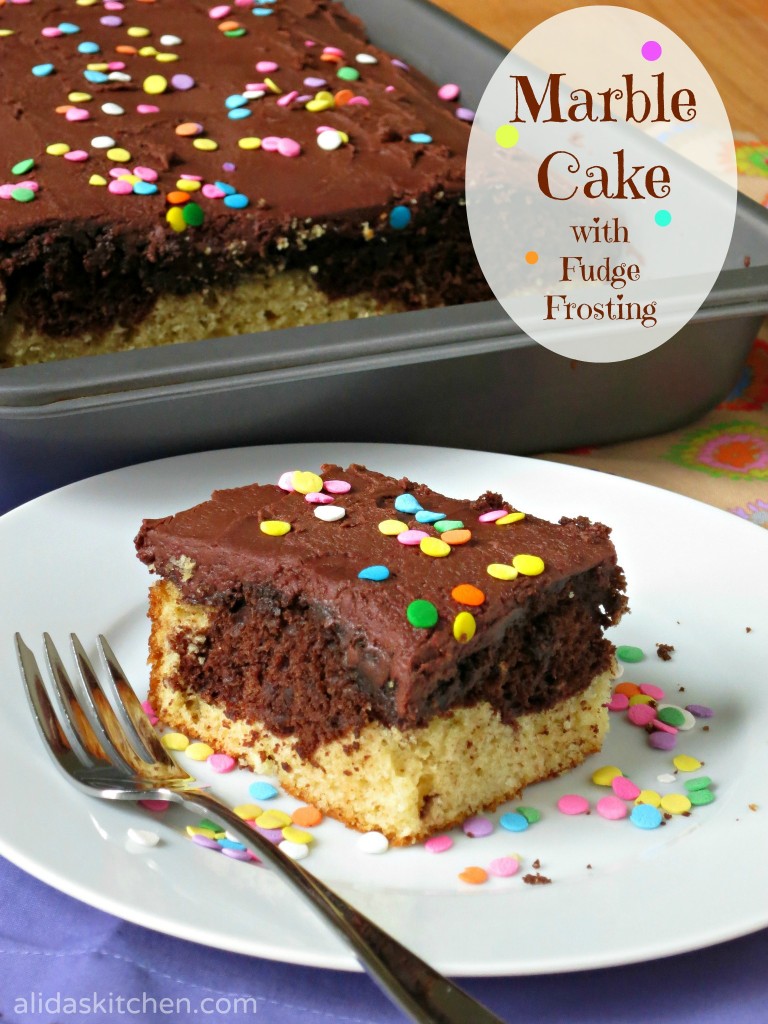 Marble Cake with Fudge Frosting
Marble Cake with Fudge Frosting is the perfect party cake! Enjoy a swirl of yellow cake and chocolate cake in every bite, topped with a fudgy chocolate frosting.
Ingredients
Cake:
3 cups all-purpose flour
2 teaspoons baking powder
1 teaspoon baking soda
½ teaspoon salt
⅓ cup unsweetened cocoa
1¼ cups granulated sugar, divided
½ cup unsalted butter, softened
3 eggs
1 cup milk (I used skim)
2 teaspoons vanilla
Cooking spray
Frosting:
1½ cups semisweet chocolate chips
3 tablespoons unsalted butter, softened
2 cups powdered sugar
¼ cup milk (I used skim)
Instructions
FOR THE CAKE: Preheat oven to 350* F. Spray a 13x9-inch baking pan with cooking spray and set aside.
In a medium bowl, whisk the flour, baking powder, baking soda and salt.
In a separate medium bowl, combine cocoa, ¼ cup granulated sugar and ¼ cup water.
In a large bowl, with an electric mixer (hand or stand) set to medium-high, beat butter and remaining sugar until light and fluffy. Reduce speed to low, and add eggs, milk and vanilla, beating until smooth. Add flour mixture, continue beating on low until combined.
Pour 2 cups of the vanilla batter into the bowl with the cocoa mixture, and stir until smooth.
Pour vanilla batter into the prepared baking pan. Spoon chocolate batter into six puddles on top of the vanilla batter. Drag a knife through the two batters, creating a swirly marble effect.
Bake 22 to 25 minutes, or until a toothpick inserted in the center comes out clean. Remove from oven to a wire rack to cool completely. Frost once cool.
FOR THE FROSTING: Put chocolate chips in a glass or metal bowl set over a pan of simmering water (or use a double-boiler), until melted, stirring occasionally. Remove from heat and add butter, powdered sugar and milk. Beat on high until frosting comes together. Add more milk or sugar as needed to achieve desired consistency. (If frosting is too stiff, add more milk; if it's too wet, add more powdered sugar)
Spread over cooled cake and decorate as desired.
Source: Real Simple