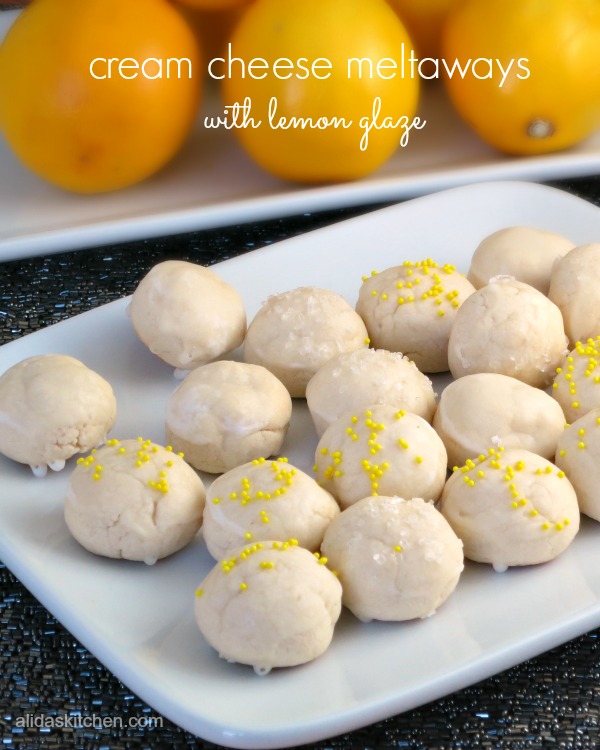 Cream Cheese Meltaways with Lemon Glaze are little bite-sized cookies that are a light and delicious addition to any holiday cookie platter.  These cookies were a new addition this year, and they were an instant favorite!  The lemon glaze gives just a hint of lemony sweetness to the cream cheesy butter cookies.  The recipe for glaze makes plenty.  You could probably get by with using half the glaze recipe, or better yet – double the cookie recipe…these will go fast!


Cream Cheese Meltaways
Ingredients
1 1/4 cups all-purpose flour
1/2 cup cornstarch
1/8 teaspoon salt
1 cup powdered sugar
1/2 cup butter, softened (I used light butter)
2 ounces block-style Neufachtel cream cheese (1/3 less fat/light)
1 teaspoon vanilla
Glaze:
1 3/4 cups powdered sugar
1/4 cup fresh lemon juice
assorted sprinkles, for decorating (optional)
Instructions
Preheat oven to 375 degrees. Line cookie sheets with parchment paper and set aside.
In a medium bowl, whisk flour, cornstarch and salt until combined.
In a large bowl, add powdered sugar, butter, cream cheese and vanilla and beat at medium speed until light and fluffy.
Add flour mixture to butter mixture, stirring until combined. (Note: dough will be dry and crumbly).
Shape dough into 1-inch balls (be careful not to overwork dough) and place on prepared cookie sheets.
Bake for 8 to 10 minutes, or until bottoms of cookies are lightly browned. Cool 5 minutes of pan and then move to wire rack to cool completely.
GLAZE: In a medium bowl, whisk powdered sugar and lemon juice until smooth. Dip the tops of cooled cookies into glaze and place on wire rack. Decorate with sprinkles, as desired. Let cookies stand until glaze is set.
http://alidaskitchen.com/2012/12/18/cream-cheese-meltaways/
Source:  Cooking Light