August 27, 2014 · 3 Comments
Baked Garlic Cheddar Chicken is an easy recipe to transform those plain chicken breasts into a healthier garlic cheddar cheesy family favorite made in less than 30 minutes!
When it comes to feeding my family, there are two things guaranteed to be winners at our table – chicken and cheddar cheese.  Bonus points if it can also be something healthy, fast and easy. Sound familiar?  I know how popular chicken and cheese can be, especially with kids, so I have been on a mission to combine the two into a healthier recipe.  Most recipes I found use way too much butter for my liking, so I looked through the some of my healthier baked
chicken recipes
to come up with a lighter version of
Baked Garlic Cheddar Chicken
. …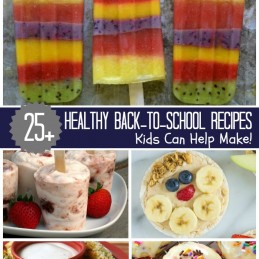 August 27, 2014
Over 25 Healthy Back to School Recipes that kids can help make by the best food bloggers from across the web.   Today we are officially back to school.  It is Adam's first day of Pre-K, and we are all so excited!  Greta and I will miss him during the day, but look forward to seeing his ...
Read more